Like most baseball fans, Gerrit Cole has been thinking about Shohei Ohtani recently.
They last faced one another 13 months ago, when the Yankees visited the Angels and Cole took a three-hitter into the sixth. Cole had retired Ohtani on a long flyball in the first and a popup in the fourth. Now, in the bottom of the sixth, up 2–0, with one out and runners on first and second, Cole tried to paint the outside corner with a fastball. He missed, high and inside. Ohtani took it for a ball. Cole tried again with a changeup but missed down. Ball two. Frustrated, Cole decided to challenge Ohtani with another heater, which missed over the heart of the plate. Ohtani was waiting. Cole did not even bother to watch the ball as it soared into the centerfield seats.
"I just wonder sometimes if I had just gone right after him from the get-go …" Cole says, then trails off.
In other words, if he had not nibbled around the edges to start the at bat, putting himself in a position where he needed to throw a strike, what would Cole have been able to do?
He spent much of the offseason pondering that question. This season, he has his answer: When Cole, 32, leans on his strengths, he is the best pitcher in the sport. With one start remaining in an otherwise lost Yankees season, he has all but locked up the American League Cy Young award, leading the AL in games started (32), innings pitched (200), ERA (2.75), ERA-plus (157) and WAR for pitchers (6.7).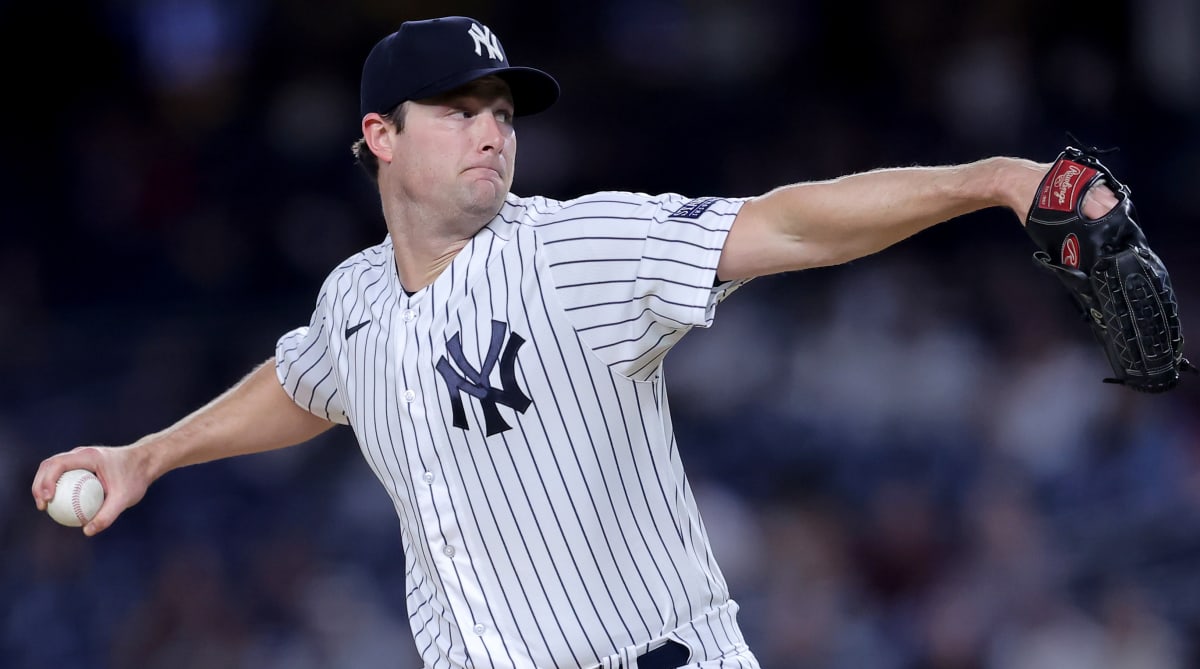 But he has always been a workhorse who can dominate hitters. Perhaps his most important improvement has come in the number of home runs allowed. Last year his 33 led the sport; this year that figure is 20, good for 61st.
"At times he was trying to be so perfect before, and he'd get into spots where there was no room for error in his mind, and it would end up kind of snowballing on him and he'd give up a home run with guys on base," says pitching coach Matt Blake. "I think this year he's been much better about simple things: slowing the game down, making pitch by pitch, trying to minimize the damage, finding different pitch selections that maybe [lead to] less slug or get them out so that he's getting through innings without giving up the big home run."
Early in his career, with the Pirates, Cole focused on throwing his fastball down in the zone. When he was traded to the Astross in 2018, they pushed him to elevate the pitch, where hitters could not catch up to it. As hitters reshaped their swings to be able to reach the high fastball, Cole returned to the bottom of the zone, where batters can make contact but cannot easily drive the ball. That worked, to an extent, but living on the edge of the strike zone often meant throwing balls, which meant getting into hitters' counts, which meant being forced to throw strikes, which hitters then punished.
He pored over his statistics and noticed that his home run-to-fly ball rate last year was high but the total number of fly balls was down. When he was at his best, he was generating weak contact on fly balls. "So that kind of spurred my curiosity as to, Well, why don't I force guys into slug more often with nobody on?" Cole says. "Because now I'm at least dictating that situation, as opposed to sidestepping around it, and then having to go to the bread and butter [the high fastball] in a situation when it's predictable, with bad execution."
So this winter, he decided to focus on the pitch that made him the star the Yankees signed for nine years and $324 million before the 2020 season: the high fastball. This year, he is throwing that pitch 46% more than he did last year, and hitters have gone from slugging .527 to .282 on it.
"The game plan and the little tweaks in the strategy, one way or another, just having a concerted effort of 'This is what we're gonna do' kind of ups that conviction, which gives you a better chance at the execution, which gets you a good result," he says. "And if you get a poor result, then you can get better feedback, right? Because there's less variables. We were convicted, we had a plan, it just didn't work. I gave the pitch a chance. It didn't work. And then that helps you adjust."
He has eliminated most of the home runs. He has also eliminated most of the what-ifs.