Packers quarterback Jordan Love didn't deliver the Lambeau Leap he promised the Fox broadcast crew while meeting with them earlier in the week.
Rather than jump into the crowd after his 1-yard rushing touchdown vs. the Saints during his first career start at Lambeau Field, he prepared for the next play as the Packers made the broadcast booth and many others wonder why they decided to go for two points after trimming the deficit to eight points with 6:58 left in regulation.
I, too, was baffled by the decision and began doing the math in my head. It took me way too long to figure it out—longer than Spongebob SquarePants staring at his notepad while he tapped a pencil on his head. But once it clicked, I realized it was a brilliant decision by Packers coach Matt LaFleur, one that must have made the analytics community happy, regardless of whether it worked out.
Luckily for the Packers, the extra point—not to be confused with the extra-point kick they passed on—made the difference in their 18–17 comeback victory against the Saints.
Sure, the Packers could have simply kicked it for a 17–10 deficit. But it didn't make sense for a short-handed team that was missing many key starters to create a path to overtime, which often hinges on which team gets the ball first after a coin flip. And, yes, the Packers could have gone for two after their second touchdown in the fourth quarter, but there's less pressure doing it earlier in the game. Also, the Packers gave themselves two cracks at getting the two-point conversion had they failed after Love's rushing score.
Again, it was a brilliant move by LaFleur, one that tested my math skills and improved my situational awareness.
Here are some other commendable decisions—and some questionable calls—that occurred across the league in Week 3.
Calls we liked
Dolphins pass on scoring record: Mike McDaniel made the right decision to run out the clock on kneeldowns instead of sending out his kicker to break the single-game scoring record during the Dolphins' 70–20 victory against the Broncos.
Dropping a 70-burger and 726 total yards was more than enough for the Dolphins' historic performance to be remembered for many years to come. As McDaniel mentioned in his news conference, it wasn't worth the bad karma to continue humiliating Sean Payton's team.
But it does make you wonder whether Payton would have gone for the record, which was set in 1966 when Washington scored 72 points against the Giants. I guess we'll never know because it doesn't appear the Broncos will be even sniffing that benchmark any time soon.
As for another highlight for McDaniel in Week 3, the Dolphins had their best day running the football since he was hired last year The Dolphins are known for their downfield throws, but McDaniel arrived in Miami as the brains behind the productive Kyle Shanahan running scheme.
Credit to McDaniel and offensive coordinator Frank Smith for not trying to replicate the 49ers' offense and building a diverse scheme that suits his players in Miami.
Cardinals execute perfect game plan vs. Cowboys: While I'm handing out flowers to coaching staffs, take a bow, Jonathan Gannon and offensive coordinator Drew Petzing, for the flawless game plan in the win against the Cowboys.
The Cardinals noticed that the Cowboys' defense, which was dominant against the Giants and Jets to start the season, still had issues with stopping the run. The Giants never tested the Cowboys' defensive front with Saquon Barkley because they fell behind early, and the Jets didn't have a balanced attack with a struggling Zach Wilson.
Petzing forced the Cowboys to prove they were no longer vulnerable against the run by handing off the ball to James Conner in a creative manner behind a spread out offense. They had a memorable highlight play with wide receiver Rondale Moore getting a carry from a shotgun formation before galloping for a 45-yard touchdown run to give the Cardinals a double-digit advantage in the second quarter.
he might literally be the fastest kid alive...@moore_rondale x #BirdGang pic.twitter.com/pN3A6PmYuc

— Arizona Cardinals (@AZCardinals) September 24, 2023
Once they established a running rhythm, that allowed quarterback Joshua Dobbs to take shots on play-action and confront a Cowboys secondary without Trevon Diggs.
Calls we question
Chargers overcome failed fourth down: Surprisingly, many were O.K with Brandon Staley's decision to go for it on fourth-and-1 from his own 24-yard line with the Chargers clinging to a four-point lead against the Vikings with 1:51 left in regulation. I was not one of those people, but more on that later.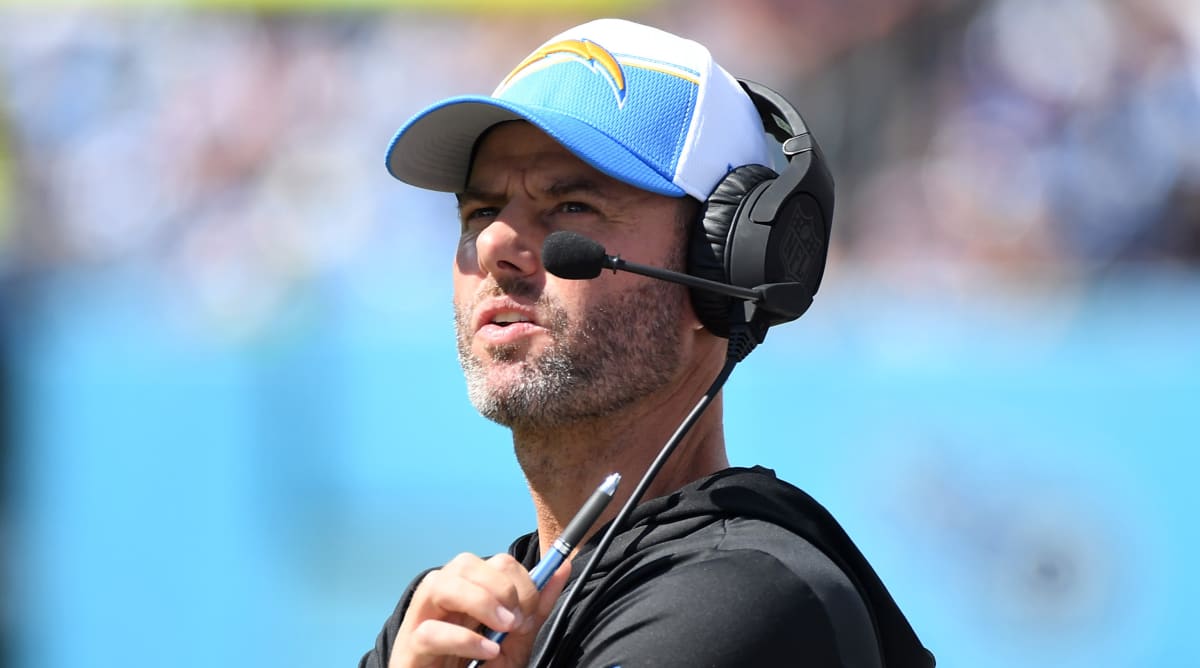 The issue for most people, judging from my social media feed, was the play that offensive coordinator Kellen Moore called. Instead of having Justin Herbert, who was sensational Sunday, gain the crucial yard with his arm or legs to close the game, Moore called a run play for backup running back Joshua Kelley, who was stopped short.
That led to Staley's subpar defense needing to get one more stop against Kirk Cousins, Justin Jefferson and the rest of the Vikings' offense. It worked out in the end because Cousins was picked off in the end zone on a tipped pass. But Staley put his defense in a tough spot having to defend a short field with the team staring at an 0–3 record.
I would have punted the ball, but obviously, Staley knows his defense better. They did defend the red zone well during their first win of the season.
Raiders attempt late field goal trailing eight points: Raiders coach Josh McDaniels strangely decided to kick a field goal late in the game against the Steelers instead of attempting to tie the game with a touchdown and two-point conversion.
Perhaps McDaniels didn't have faith in his struggling offense to score twice on the drive, explaining why he went with the three points to make it 23–18. But he still needed a touchdown after Daniel Carlson's kick and favored the low odds of his team returning to the red zone against a stout Steelers defense with less than three minutes in regulation. Jimmy Garoppolo had a tough time moving the offense when he wasn't force-feeding Davante Adams, which also led to a few turnovers.
McDaniels didn't believe in his offense to deliver on fourth down, and actually showed that lack of faith twice—Carlson had a field goal nullified earlier after a Steelers penalty on that fourth down kept the drive alive.
McVay struggles in Rams' loss to Bengals: Rams coach Sean McVay had a rough fourth quarter while his team attempted to rally in Cincinnati.
First, McVay decided to punt on fourth-and-5 from Los Angeles's 30-yard line with a 10-point deficit and less than seven minutes left in regulation. But that wasn't as bad as McVay calling a run play for running back Kyren Williams with less than two minutes left, which killed about 20 seconds off the clock after Williams was stopped on Cincinnati's 1-yard line.
The Rams scored a touchdown a few plays later to make it 19–16, but they lost valuable time that would have helped them had they recovered the onside kick. Perhaps there was a miscommunication on the Williams run play, but the Rams' offense and coach had a rough performance during the Week 3 loss.