Forty names, games, teams and minutiae making news in college football, where Girl Power is alive and well and rushing the quarterback at Division III Shenandoah:
First Quarter: Trash-Talkin' Coaches | Second Quarter: Pac-12 Quarterbacks | Third Quarter: The New Guys
Fourth Quarter: It's Been a Month, Please Play Somebody
Some blueblood programs with top 25 rankings have piled up victories without stressing themselves—or, in some cases, without even leaving campus. That's finally changing this week. The Dash examines four teams that are lightly scheduled up to this point, and when that will change:
Georgia (30). Record: 4-0. Home games: four. Road games: zero. Closest margin of victory: 10 points, against South Carolina. Best opponent thus far: South Carolina (No. 30 Sagarin ranking). Next: The Bulldogs visit ancient rival Auburn on Saturday, and should be much better, but maybe Hugh Freeze will have a challenge waiting for the two-time reigning national champions. Georgia has been a blasé team out of the blocks, outscoring opponents just 17-7 in the first quarter. The Jordan-Hare Stadium crowd is one of the loudest in the sport and could turn another slow Georgia start into some momentum for the home team. That said: Auburn isn't very good offensively, which is a major problem against the Bulldogs.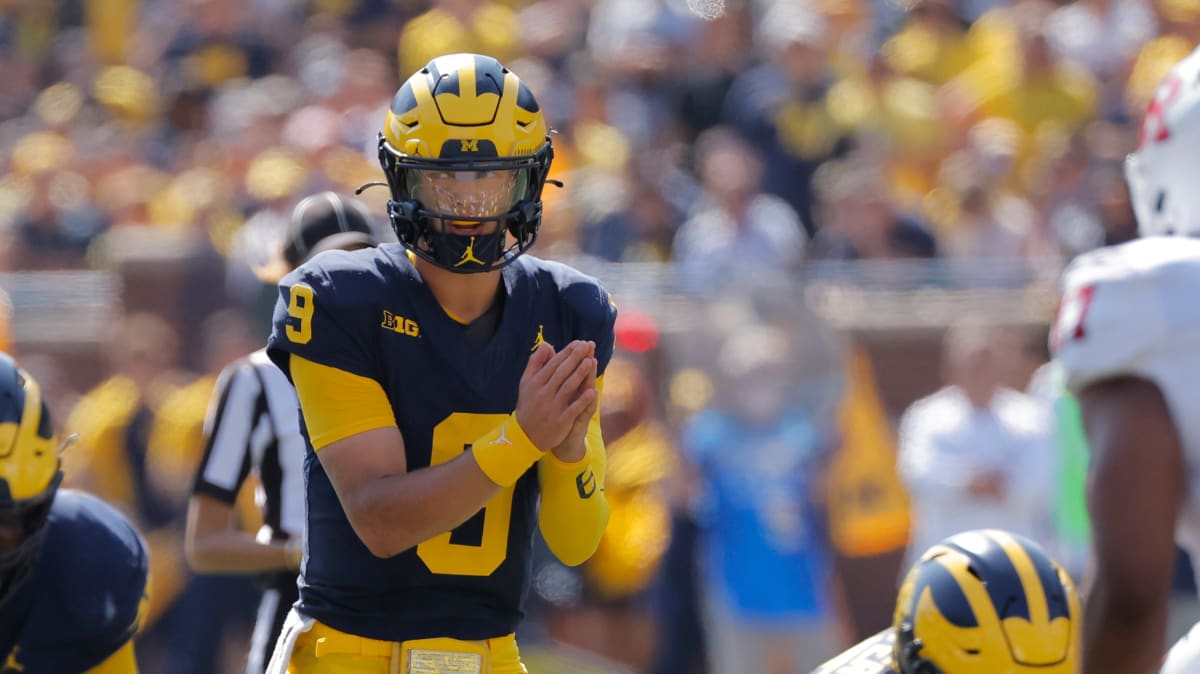 Michigan (31). Record: 4-0. Home games: four. Road games: zero. Closest margin of victory: 24 points, against Rutgers. Best opponent thus far: Rutgers (No. 54 Sagarin ranking). Next: at Nebraska, which at least presents a change of scenery and large opposing crowd. (The Cornhuskers nearly took down Michigan on its last visit there, in 2021, just as that team was ramping up toward a playoff run.) The Wolverines have won their games with metronomic consistency, scoring in the 30s and allowing single digits. They have been a solid running team that resolutely stops the run. They have been an efficient passing team that vigilantly guards against the pass. None of it has been terribly exciting to date. Don't expect a dramatic upgrade in excitement Saturday in Lincoln.
USC (32). Record: 4-0. Home games: three. Road games: one. Closest margin of victory: 14 points, against Arizona State. Best opponent thus far: Arizona State (No. 91 Sagarin ranking). Next: at Colorado Saturday. The Trojans play an offense with a pulse, in what should be a rowdy environment. (Buffaloes fans won't be off the bandwagon after one loss, especially since the Broncos are a catastrophe and no football fans in the state want to expend energy on them.) But the nation's No. 1 scoring offense is unlikely to be slowed appreciably by the Colorado defense, so USC's own suspect D shouldn't have to make too many stops to get out of Boulder with a victory.
Oklahoma (33). Record: 4-0. Home games: two. Road games: two, unless you consider playing at Tulsa a de facto home game, which you should. Closest margin of victory: 14 points, against Cincinnati. Best opponent thus far: Cincinnati (No. 40 Sagarin Rating). The Sooners got off the Play Somebody List, kind of, last week by serving as the visiting team for the Bearcats' Big 12 debut. Oklahoma got a commensurate fight for the occasion but did what it had to do to win, especially defensively. That unit is much improved over the group that gave up 30 points per game last year. This week the Sooners host Iowa State in what should be one more tuneup before Red River, when things get very real.
The Big Ten West Is Big Ten Westing
In America's most lopsided divisional format, the Big Ten West (34) is playing to the script. They're fresh out of unbeatens before we're out of September, with Iowa being the last to go down—and go down hard—at Penn State. While the Big Ten championship game looms as another mismatch, it's also quite possible that the West will crown a fourth different champion in the last four seasons, which does keep things fun for the fans of West Division teams. Purdue, for example, sure enjoyed making the title game last year.
The division remains an offensive quagmire. The two lowest-rated passing offenses (35) from power conferences both hail from the Big Ten West: Minnesota checks in at No. 125 nationally, with old reliable Iowa at No. 126. Not far up the ladder is Nebraska at No. 109, Purdue at No. 96, Wisconsin at No. 92 and Northwestern at No. 85. Congratulations to Illinois for being the aerial standard bearer for the division at No. 84.
In crossover divisional games (36) thus far, the West is 0-3, outscored 85-20. Iowa has a good chance to get the West's first win over the East Saturday, when Michigan State staggers into Iowa City. The Dash doesn't like Nebraska's chances against Michigan or Northwestern's chances against Penn State.
Drive for 325 Update
Each week The Dash is updating the progress of Iowa offensive coordinator and nepo baby Brian Ferentz (37) toward fulfilling contractual obligations that call for the Hawkeyes to average 25 points per game—a total of 325 points across 13 games. After last year's offensively challenged team wheezed its way 17.7 points per game, improvement was mandated—and put in writing. The update through four games:
Last week: Iowa lost (badly) at Penn State, dropping to 3-1.
Points scored: 0, the Hawkeyes' fewest since being shut out by Illinois on Oct. 14, 2000. Not only that, but Iowa had just 33 offensive snaps in the game, which is by far the lowest total nationally this season in a game matching two FBS teams (next fewest is 42). It also ties the feast number of plays by an FBS team since 2020.
Average points through three games: 21.3, slumping back down beneath the Mendoza Line after being above it last week.
Average points attributable to the offense: 19. Percentage of Iowa points this season that are not attributable to the Iowa offense but still countable toward Ferentz's contract: 10.6.
Number of points needed the rest of the way to reach the target: 240. The Hawks need to average 26.7 through the next nine games.
Next up: Michigan State, which could be a get-well game. The Spartans have given up 72 points in their last two games and are showing signs of packing it in after the Mel Tucker scandal rocked the program.
Coach Who Earned His Comp Car This Week
Neal Brown (38), West Virginia. No Power Five head coach entered the season on a hotter seat than Brown, who had a sub-.500 record through four seasons in Morgantown and whose team was picked to finish last in the 14-team Big 12. Now the Mountaineers are 3-1, with a Backyard Brawl triumph and a Big 12-opening win over preseason trendy pick Texas Tech. The lone loss is against a damn good Penn State team. Brown has had to do it playing two quarterbacks as well after an injury to starter Garrett Greene has kept him out of most of the last two games.
Coach Who Should Take the Bus to Work
Joey McGuire (39), Texas Tech. What was great for the Mountaineers Saturday was dismal for the Red Raiders, whose only win is over FCS Tarleton State. Their three losses are by a total of 17 points, and now the Red Raiders will be without quarterback Tyler Shough after what could be a season-ending leg injury against West Virginia.
Point After
When thirsty in the state of Indiana, The Dash always recommends a Dragonfly IPA from Upland Brewing (40). Pair it with a fried tenderloin sandwich—which can be found roughly everywhere—and thank The Dash later.
First Quarter: Trash-Talkin' Coaches | Second Quarter: Pac-12 Quarterbacks | Third Quarter: The New Guys